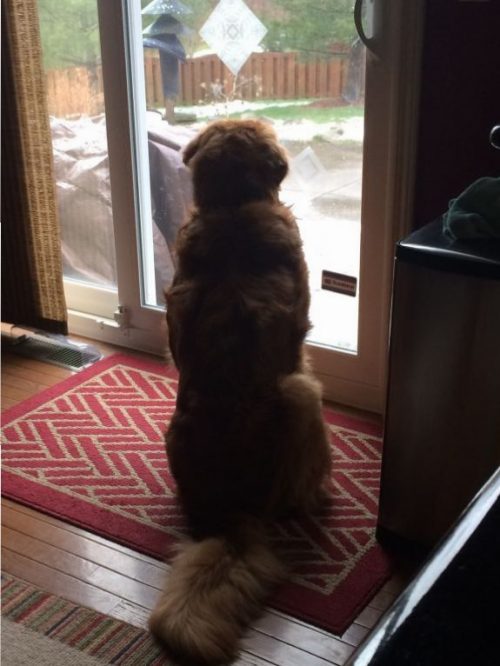 Happy Spring Everypawdy!  My mom tells me that spring is a time of change and of new beginnings.  Quickly fading away are the dark, cold days of winter and fast arriving are warmer, sunnier spring days with all the sights and sounds that mark this lovely new beginning.  The air is still crisp but full of birdsong as summer birds return to build nests and raise their young.  The grass is growing despite the muddy conditions in my yard thanks to cleansing showers that are still washing away remnants of winter.  Flowers are slowly emerging from the ground and will soon blanket my yard with bright hues of red, yellow, purple and orange.
As the wonders of spring emerge, I too am emerging.  Gone are the cold lonely days of my past and here to stay are the bright, sunnier days of my future.  Just as certain as spring's annual return, my spirit has always been my guiding light…it is what has helped me prevail through even the most difficult times.  My body is healed but I will always carry the physical reminders of my troubled past and that's okay…I've adjusted to life as a tripawd just fine.  Now that I have been in my new home for 12 weeks, my mind is healing.  I am certain a bright future lies ahead but there are still a few memories that my brain is slow to leave behind.  These memories are like the last of the winter birds who wait until they are certain there will be no more cold weather before finally heading to cooler climates.  I have memories I just cannot forget and fears that I just can't let go of but my family is helping me put my past behind me, conquer my fears and focus on the future.  I am proud to say I am "blossoming" into the amazing dog I always knew I could be and the amazing dog my family believed I would be.
Before I get to the really BIG news I have to share, let me just tell you about my field trip on St. Patrick's Day.  I got to go to SCHOOL with my mom….the real kind of school where kids go to learn.  I have been going to dog school for about 6 weeks now and I've been doing a pretty good job.  My mom and dad work on my "homework" with my every night and we've been working really hard on the 10 items I have to learn in order to become a Canine Good Citizen.  Well, St. Patrick's Day was a work day for teachers only so my mom asked the principal if it would be okay if I went with her to school so we could practice some things in preparation for the big test.  When we arrived, I was so excited UNTIL I walked through the door and saw nothing but white…shiny…tile…floors…….EVERYWHERE!!!  I panicked because I had never see floors like that anywhere!  I thought I was on a frozen pond and didn't know what to do (please stop and picture the image of Bambi in your head).  Thank goodness my mom and dad put some Pawfriction on my feet to help me on slippery floors.  (Fellow tripawds, check this stuff out on Facebook!) Once I realized I wasn't going to slide, I was ok with the floors.  In fact, I was ok with most everything at school EXCEPT for the Principal's Office!  What a scary place!  No wonder why the kids don't like to go visit the Principal!  I worked on my manners as I met new friends, practiced loose leash walking (in the carpeted hallway thank goodness) and I even did a great job with computer carts being rolled past me and custodians pushing big garbage cans.  It was the most exciting day EVER!  My mom said once I become a therapy dog, I can go with her to lots of places to visit.  Wow…that will be just pawsome!
After my field trip to school, I had just one week left before the big Canine Good Citizen test.  At that point my mom and I were just starting to speak the same language regarding loose leash walking.  We practiced that a lot on my field trip and while we were there it finally clicked!  So each day after that, sometimes more than once each day, we walked….and walked….and walked until we managed to get on the same page. Of the ten test items, the ones that posed a problem were the loose leash walking, supervised separation (I really love my mom and dad and like to be close to them at all times), and meeting another human and dog.  One of the memories from my past that I just can't let go of is other unfamiliar big dogs.  I am afraid of them.  I love my Golden cousins at my Grandma and Grandpa's house but I am afraid of strange dogs.  I want to meet them and be friends with them but I just don't know how without getting scared first.  I tried to meet a neighbor's dog and I just couldn't do it.  There are dogs that live all around me but they scare me when they bark at me and make mean faces at me through the fence.  My mom and dad have been taking me to the park to practice walking and getting used to neighborhood things like strollers, kids, and other dogs.  I haven't met any other dogs yet but they are not so scary as I am learning that seeing a scary dog means I get TREATS.  But, the only problem is:  when completing the Canine Good Citizen test, there are NO TREATS ALLOWED! Oh boy….I was certain I was done for.
Okay so now to the good news…the great news….the BIG news!  I PASSED THE CGC TEST!!  I am now proud to say I am officially a CANINE GOOD CITIZEN!  This means I can begin going places to practice for the really big test I have to take to become a certified therapy dog.  I can't believe it!  My teacher Chris at Woof Wise Dog Training was really proud of me.  She said not many dogs pass the test the first time around but my mom and dad and I worked REALLY hard on the ten test items and we do have a pretty special bond.  I really gave the test 100%…I really did my best!  I have to thank my little buddies Lucy and Eugene for being so patient with me since all this practice takes up a lot of time that they normally spend with my dad (plus they don't get to eat as many treats as I do, which I know probably doesn't seem fair).
My mom says this is just one more lesson I can teach her kids at school: perseverance pays off, no matter what obstacles stand in your way.  As long as you have people around you who love you for who you are, you can do anything you set your mind to!  I have a lot more work to do before becoming a polished therapy dog but I am beginning to believe I can do anything.  This is my new beginning…this is my second chance at life and I'm not going to waste a minute worrying about my past!
Until next time…hugs and kisses! 🙂
Love,
Chance
And for your viewing pleasure….here are some photos of my latest adventures!  Enjoy!