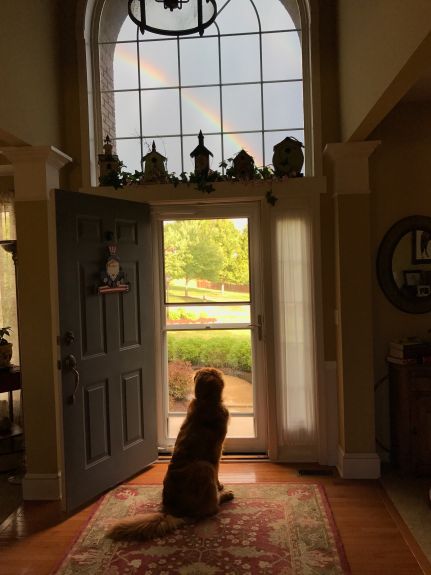 "A hero is an ordinary individual who finds the strength to persevere and endure in spite of overwhelming obstacles."  
-Christopher Reeve
Happy Saturday Everypawdy!
Chance here…haven't written in quite some time because I have been SO BUSY!  Life as a tripawd is GREAT!  I have so much to tell everypawdy that I don't even know where to begin!
I guess I should start with the big news (it's difficult to keep it a secret any longer)…I passed my therapy dog test!  My parents drove me out to a place far away and a nice lady named Dianne asked me to do all sorts of things with my mom in a great big gym.  I could tell my mom was a little nervous and so was I but I did my best and passed with flying colors!  A nice lady from the local newspaper joined us and wrote a story about me in the newspaper!  I felt like a celebrity!  So now I am an official therapy dog and can go to school with my mom to help kids with their reading.  Once I passed my test, I started going to the library with my mom once a week to meet the kids in her school's summer reading program.  I made so many friends and learned what it takes to be a reading dog!  One little girl was afraid of me at first because she is afraid of dogs in general but when she realized I was a tripawd she wasn't afraid of me anymore!  My mom always laughs because most people don't realize I am a tripawd until I walk away….they say hello and pet me and then when we walk away, they are shocked to see I'm missing a wheel.  Do they not think that tripawds can be therapy dogs too?  Do they think that a dog with only three legs could be any less amazing than a dog with four legs?  I just don't get it.
Going to the library once a week with my mom kept me pretty busy this summer.  My parents try to take me to as many "dog friendly" places as possible.  So far I have been to Lowe's, Home Depot, Petitti's Garden Center, the Apple Store,  Barnes and Noble, and even car shopping!  I love to meet new people so my mom says it is good practice for me to be out an about in public.  I don't mind where we go…I just love to go!  A few weeks ago my aunt was in the hospital and sent to a rehab facility.  My parents have taken me to visit her three times and each time I go I meet some of the patients and staff there.  Everyone seems happy to see me and I love to make them smile.  The director has even asked my parents to bring me in on a regular basis.  I guess you could say it's my first real "gig" as a therapy dog and I can't wait!  I've really started to learn what my job is…some of my new friends are in wheelchairs so when I see them I sit and lean against their wheelchair so I am close enough for them to pet me instead of lying down on the floor.  I love when people hold my paw so I've learned to be more gentle when I offer it and I've had to conquer my fear of the elevator and shiny slippery floors:  all in a day's work for this tripawd therapy dog!
So my mom says everywhere she goes lately, there's talk of superheroes.  She says the theme for her school this year is superheroes and I've been thinking a lot about what a superhero is and what it takes to be one.  I love the quote made by SUPERMAN himself (Christopher Reeve): "A hero is an ordinary individual who finds the strength to persevere in spite of overwhelming obstacles".  Mom says I'm a superhero because of all I've gone through in the past year.  It was just this past November that I was a scared stray dog barely walking on two good limbs.  I'd been shot in one leg and my front paw was stuck in a coyote trap.  Both injuries were badly infected and I was cold and thin and scared.  If someone hadn't cared enough to find me help, I wouldn't be here.  Despite the bad shape I was in, I was determined to live.  My superheroes are the kind people who found me and the amazing vets and techs at the emergency clinic who took care of me for over two months.  Without them, I wouldn't be here.  Miss Cindy is my hero for looking beyond my injuries and finding me a home with people who knew in their gut that I could become the amazing dog they thought I had the potential to be.  My teacher Miss Chris at Woofwise is my superhero for teaching me the things I needed to know to become a therapy dog and my Aunt Chris McCoy and her staff at The Natural Pet Enrichment Center are my superheroes for helping me get strong and healthy with a good diet and lots of yummy treats.  My family (both human and canine/feline) is full of superheroes: my mom and dad never lost hope that I could conquer anything and spending time at my grandparents' with my golden retriever cousins is helping me learn how to be a dog and to not be so afraid of other dogs.  Fellow therapy dog Gabby  (pack leader) has accepted me and is teaching me how to play. My mom says she knows I am a hero because I've inspired so many people to do good things.  From the amazing customers at the Natural Pet who donated money to my Second Chance Fund at the emergency clinic to a nice lady named Jean who donated money to purchase a piece in my name to put in our garden, a nice lady name Mike who made me a blanket with my name on it and my new friend Marietta who is making me some festive bandanas, I hope I continue to inspire people to do good things not just for me but for others.
I don't think of myself as a superhero but my mom says to the kids at school and to the people I visit at the rehab facility, I am a superhero.  I am just a dog who has overcome some pretty big obstacles that have left me somewhat damaged but not defeated.  In less than 6 months in my new home I have passed three tests to earn the titles of Canine Good Citizen, AKC Tricks Dog, and therapy dog.  I did not let my dark past get in the way of a bright future.  I approach every new thing with a positive attitude and do not let my disabilities keep me from doing what makes me happy.  Do you think even superheroes sometimes get scared?  I still have some challenges to overcome:  I am still not quite comfortable meeting new canine friends.  My mom says I am very much like some of her students who have difficulty making friends at school and that maybe we could help each other conquer that fear.  I still have bad dreams that bring back dark memories of my past and I still get scared that someone will hurt me when I think I've done something wrong.  The past is difficult to forget but I have so many great memories to start making in my new life and my new job.  If kids want to think of me as a superhero, I would be honored to play the part.
Love always,
Chance
Here are some pics from my favorite summer moments: