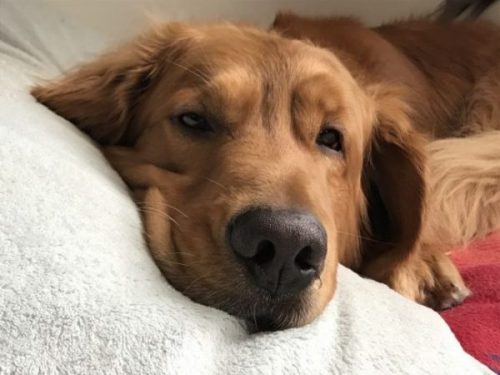 "As soon as I saw you, I knew an adventure was about
to happen." -Winnie the Pooh
Happy Saturday Everypawdy!
I'm sorry I haven't written in a really long time but life as a therapy dog sure is RUFF!!  By "ruff", I don't mean challenging but "ruff" meaning SO BUSY!!  I am now going to school with my mom about once a week and I'm learning more and more about my job with each visit.  The kids all seem to really like me and boy do I like them!!  My mom's school has a superhero theme and the kids see me as a real life superhero.  I even have a superhero collar and leash!  On the days I visit school, I greet the teachers and students in the halls or as they enter for breakfast and everyone is always happy to see me.  My mom says the kids work really hard on their reading and writing on the days I am there. They usually sit in a circle on the carpet and I lay in the middle.  Sometimes they pet me with one hand while they write or read with their other hand and sometimes I help out by placing my head or my paw on their book so they don't lose their page.  The kids say I inspire them to do their best on their work because I always work hard and try my best on whatever I do.  I have learned to really trust the kids: when they walk around me they are very mindful of where my tail and my feet are so they don't accidentally step on me and they are always so gentle when they pet me.  When the kids work at the table, I like to lay under the table and rest my head on their feet while they work and they are so careful not to kick me.  I have attended staff meetings, district meetings, special events (where I get to meet parents), assemblies and even the Halloween parade…last week I even witnessed my first fire drill!  My mom says she is so proud of me because I am so brave: the noisy kids, ringing bell, busy hallways and hectic schedule don't phase me at all.  I tell her it's because the kids see me as a superhero so I have to be brave.
One of my favorite things about school is my mailbox.  My mom and dad made me my very own mailbox and the kids can use it to send me "tail mail".  I really like to read what the kids have to say.  They think I am brave and strong and the best dog ever.  They draw me pictures and send me cards too.  I write letters back and stamp them with a special stamp (it's a paw print with only 3 toes!).  Sometimes the kids ask me questions and other times they tell me how I help them in school.  My mom keeps all of the cards and letters and takes notes on what we do on the days I'm there.  She says MAYBE someday, we can write a book together.
On January 5th I celebrated the anniversary of my "gotcha day".  Can you believe I've been in my new home for a full year already?  Boy, has one year flown by fast!  My mom says my whole life has been a series of chances taken by people who care about me.  First off, what are the chances that a dog like me could survive the injuries I suffered and end up in the yard of someone kind enough to help me?  When I arrived at the emergency clinic, I was in pretty bad shape and nobody really knew for sure that I would make it.  Dr. Talbott and his team took a chance on helping me: they knew it would be a long, expensive road to recovery and they committed to helping me get through it even though my injuries were pretty severe and there was no guarantee I would recover.  The generous people who donated money to pay for my care also took a chance on me, not knowing if I would recover.  Ms. Cindy and the people who assisted with my adoption took a chance on me: they saw something in me that led them to choose the perfect home where I could return some of the good that was offered to me.  My mom took a chance on me by contacting the clinic as soon as she saw my story: she had her heart set on adopting a dog that could become a therapy dog and she felt in her heart that I could be that dog even though she didn't know anything about me.  My dad didn't even know right away that my mom contacted the clinic but he didn't put up a fight when she told him a few days later: he knew there was room in their home for one more and trusted I could be the dog they were hoping for.  They didn't know much about me as far as where I came from, what kind of life I led, how I would get along with the other fur members of the family,  or how trainable I was.  There was no guarantee at the time that I would make it to become a therapy dog or how good I would be at my job.  At that time, my mom took a big chance on the idea of bringing me to school because there was no promise that the principal or other teachers would accept me.  Fortunately, everything fell in place like it was all meant to be.  I've accomplished quite a lot in just one short year.  To celebrate, my mom and dad threw a little PAWTY to thank the special team of people who love me and have helped me get to where I am today.
The "PAWTY" was yesterday and it was the best day EVER!  So many of the people I know and love came to visit me!  I would not be where I am today without the tremendous love and support of some very special people.  First and foremost I have a REALLY big family who loves me and welcomed me with open arms and have cheered me on along the way.  I am welcome to visit family for holidays and special events and my grandma and grandpa never mind letting me hang out with them and my golden cousins.  The house gets pretty chaotic with 6 dogs but they never seem to mind.  Without the help of my golden cousins, I wouldn't know how to act like a dog.  The person who received the happiest welcome was Ms. Cindy: I have to thank her for following her heart and placing me in the best home I could ever ask for and I hope she knows that she will always have a very special place in my heart.  I recognized her immediately.  I was also very happy to see Mr. Bruce: he is my very furvorite Facebook friend (we have some pretty in-depth conversations).  My teacher Ms. Chris and her husband Rick were able to attend my pawty: after all, Ms. Chris is the one who helped me become so super smart and without her help, I wouldn't have passed my therapy dog test so quickly.  Guess who else attended my pawty?  My "fur"ends from the Natural Pet!  Ms. Chris and Mr. Mark and Ms. Nancy brought some pretty special presents….they sure do know me well!  My mom was just pulling in to their store when she received the call saying I was coming home so they have been a part of my story from literally the very beginning and I have them to thank for keeping me healthy.  My mom works with some pretty special ladies at school who attended my pawty: Ms. Rachel (she brings me bananas), Ms. Susan and Ms. Lisa have accepted me as just another member of their team even though it means that sometimes adjustments in schedules or activities need to be slightly altered.
The most special visitor to my pawty was Ms. Sarah, Dr. Talbott's daughter.  It is unfortunate that Dr. Talbott isn't around to see what I've done with the second chance he's given to me but I'm glad Ms. Sarah is here to see it.  She cried when she saw me and said they were both happy and sad tears.  I was very happy to see her….some people you just never forget.  If it wasn't for her persistence in convincing her dad to save me, I may not be here today to tell my story.  I promised her that with every smile I put on the faces of people I meet as a therapy dog, her dad's good work will continue to live on.
I am the result of lots of caring people taking chances.  I hope I can teach my friends at school that even though taking chances can sometimes be scary, lots of chances are worth the taking.  When we open our hearts to scary things, we discover things we didn't even know about ourselves and realize how strong and determined we can be to overcome obstacles we didn't believe we could.  That's love….love can get us through anything.
Love always,
Chance
Here are some pics from school and from my PAWTY….ENJOY!!!