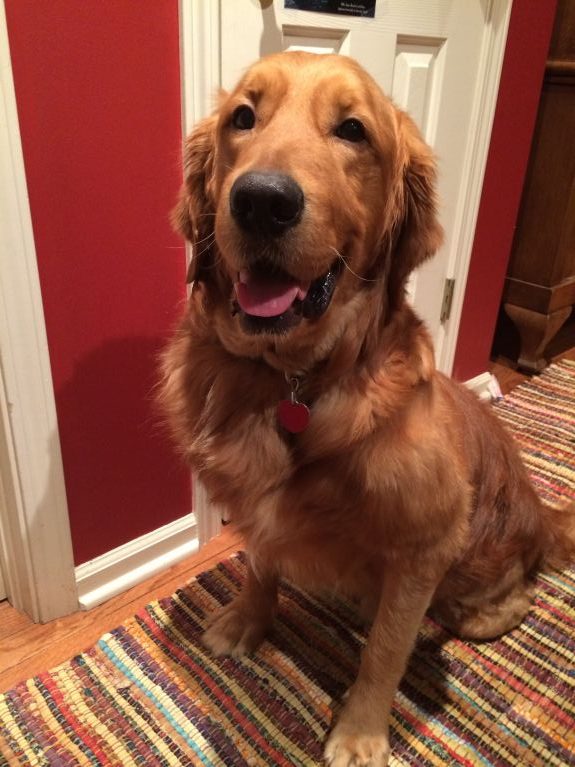 Hello everypawdy!  My name is Chance and I have quite literally been given a second Chance at life.  You see, my life almost ended back in November.  I am only about two years old so the world is still pretty new to me.  Somehow I found myself outside in the cold, wet weather.  No one knows how long I was wandering on my own but somehow I got into a bit of trouble.  I had a gunshot wound to my back leg and my front paw was caught in a metal coyote trap.  I was wet, cold, infested with fleas and hungry….so hungry.  I was lucky enough to find help when I wandered into a man's backyard.  He called for help and I found myself in the care of the nice people at the Lorain County Animal Emergency Center.
I was a mess!  My back leg where I had been shot was horribly infected…I could not use it at all.  My front paw that got stuck in the trap was swollen and hurt so badly!   The vet at the clinic knew my back leg was a goner (I wasn't sure what he meant by that) and he wasn't sure about my front paw.  He said something about watching to see if blood would return to my toes.  On top if all that I was hungry…still so hungry.  My body was bony and I was really weak from not eating.  Through everything, I felt like the people at the clinic cared and wanted to help me.  I like people and they seemed so nice…I stopped worrying about making sense of what had happened to me and let them try to fix me up.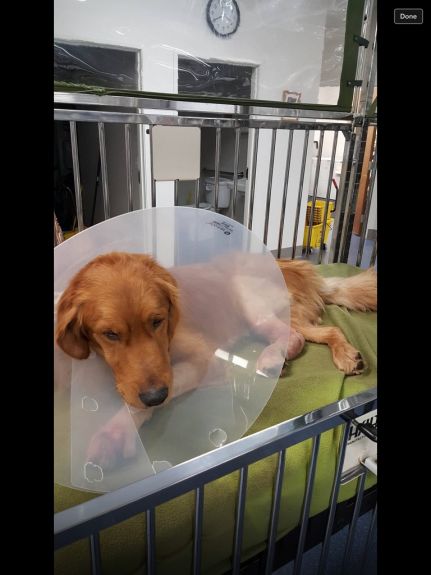 Fast forward about a week.  I woke up one day and had no pain in my back leg!  In fact, I had no back leg at all! I also had a funny feeling in my front foot but that was different too: the toe that hurt so badly was gone too! I thought these people were amazing! Not only did they take away my pain but they continued to bring me food! I loved them and they loved me.  My true personality started to shine and regardless of what happened to me before, I knew from this point on that people would take care of me and life would be good.
A nice lady named Cindy came to pick me up one day.  She's a lady who came to visit me often and worked with me on lots of things.  She told me that 80 families were interested in adopting me.  Wow…80 families! I felt so special and apparently a lot of other people thought I was too! Cindy and I visited the homes of a few families to see which one was best for me.  I was so well behaved and really enjoyed my time with Cindy.  I have made lots of friends since becoming a tripawd but she is my favorite!
Last week Cindy took me back to the clinic.  I was so happy to see all my friends again! Cindy gave me a bath and made me look so handsome.  Then these people walked in.  Everyone was happy and talking and crying at the same time….I was a little confused.  There was also a guy that kept following me with a big black camera and I had to sit and take pictures with the new people.  Before I knew it they loaded me into a car and we were driving.  I was scared and a little sad.  The car I was in was not Cindy's car and she was not driving.  I watched the clinic disappear out of sight as we drove away.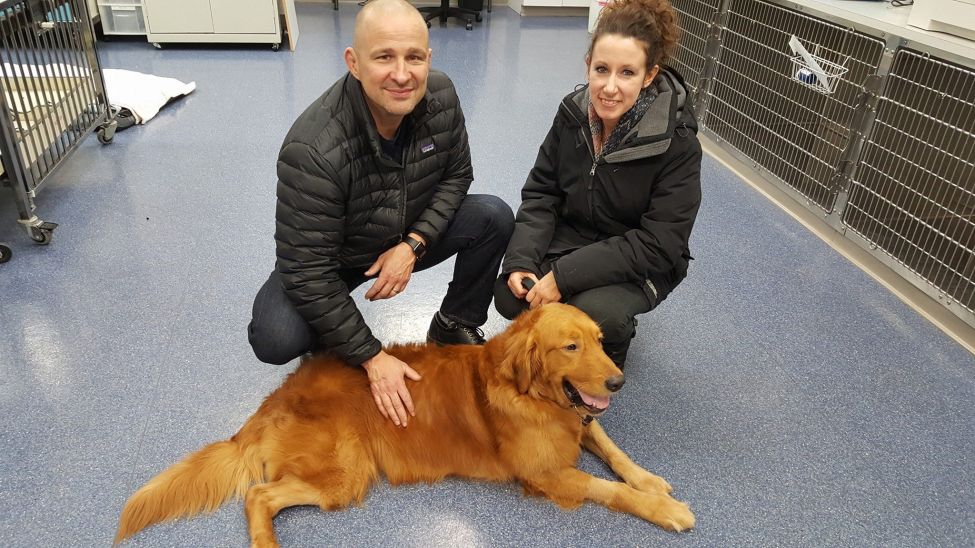 When the car finally stopped the new people took me into the house.  It was a house I had been to before with Cindy but she was nowhere to be found.  I looked everywhere for her and got scared.  The new people were nice and understanding.  They introduced me to two little dog friends and gave me treats and a comfy bed to sleep in.  The nest morning I found bones to chew on and so many toys to play with! I didn't know what to do with these things at first but I quickly figured it out.
I have now been in my new home for a week.  I have been such a good boy and I am moving around on three legs better and better with each day.  I have four fur friends to live with: Gene and Lucy (the little dogs) and Lilly and Bodie (cats).  The cats are afraid of me because I am still so clumsy on my three legs but we are learning to be friends.  My new mom and dad are really nice and they love me so much.  My mom says I will be a therapy dog someday and will be able to go to school with her to help kids with their reading.  That sounds so exciting! My friend Cindy always told me that so many people gave me the help I needed that I should have the "chance" to help others.  I will keep everyone posted on my new life as a tripawd therapy dog.