Happy Saturday Everypawdy! I have officially been in my forever home now for 7 weeks and a tripawd for 3 months. I am quickly learning that I can do pretty much anything a dog with four legs can do (both good things and not-so-good things). People who meet me don't always realize at first that I only have three legs. In fact, my family and I are finding out that it's my missing toe on my front foot that is more of a hindrance than my missing leg because it was an important toe for balance and it is on the same side as my missing leg. Don't worry…it doesn't stop me from doing what I want to do!
Let me first start by telling you about the amazing benefit The Natural Pet Enrichment Center held for me on February 11th! My parents felt that since there were so many people that followed my story on the news, they wanted to give my "fans" an opportunity to meet me and see how well I am doing. I had such a great time! So many friends, family and beloved customers of the store came in to meet me and some of them even brought their fur friends! Chris and Mark McCoy, the store's wonderful owners, and their staff advertised my benefit, organized a 50/50 raffle, raffled off some bags of cat and dog food and set out jars for monetary donations. Diane Weinmann, animal communicator and customer of the store generously donated her time to speak with fur friends and their families. She donated all of the proceeds to my cause, The Second Chance Fund which was set up by the Lorain County Animal Emergency Clinic where the injured me was cared for in November. The donations from the raffle and monetary donations were also added to the fund for a grand donation total of $823! This money will be used to treat the medical needs of stray animals who come into the clinic so they can be placed into rescue groups that will help them find furever homes. My foster mom Cindy and her husband Bruce also came to visit me at the benefit. Boy was I glad to show them the brand new me! My parents take me to The Natural Pet often because it is a great place for me to meet new friends and to work on my manners. I love everypawdy there so much…they are like family to me! If you want to see some pictures from my benefit (thank you Elsa!) and pictures of my visits to The Natural Pet, just visit the store's Facebook page (just search by typing in The Natural Pet Enrichment Center) or watch my friend Dave Nethers' news clip http://fox8.com/2017/02/11/chance-the-dog-gives-back-to-those-who-helped-save-him-from-bullet-trap-wounds/
Last week was a very big week for me because I started school! I am taking classes to be a Canine Good Citizen at Woof Wise Dog Training with Chris Lantzer. My parents went with me for a private lesson with Chris a week before school started last Tuesday. I had the opportunity to show Chris what I know before class started. She said I am smart enough to skip a beginner's obedience class and go right to the Canine Good Citizen Class. I like to learn and my mom and dad practice my "homework" with me every single day (sometimes twice). Chris said there is a test I have to pass in March in order to be a Canine Good Citizen…I'm worried I won't pass the test! In order to pass I have to learn how to focus on my parents, not get excited to meet new people and dog friends (and I LOVE to meet new friends), stay in one spot while my mom walks away and even be ok with a stranger when my mom or dad go out of sight! I have only been with my family for a few weeks so I am still learning that when they leave they ALWAYS come back and I get a little worried when I can't see them. I cannot do everything the same way dogs with four legs do so we have to make some adjustments. I cannot walk in tight circles so when I "heel" I have to walk behind my handler and I get tired of sitting for long periods of time so I do most everything lying down. The most challenging obstacle for me right now is walking on a leash. I have a bad habit…I pull on the leash but I can't help it! I get so excited whenever I think I am going somewhere! I am not very graceful when I walk and my gait is slightly different than most tripawds thanks to that dang missing toe. We are taking baby steps with the leash walking. I try my best but sometimes my nose gets carried away and takes me to places faster than my mom likes. My mom says that I cannot go to school with her until I pass the test so now I know how much pressure her students must feel about passing tests! My teacher Chris says I do a pretty good job in class and she thinks I have a lot of potential as a therapy dog. She made me feel better by saying that very few dogs pass the test the first time (there is only 4 weeks of school before the test) but I can take the class a second time to perfect my skills and then retake the test. I like to think of myself as an "A+" student so I will work really hard to pass the test the first time.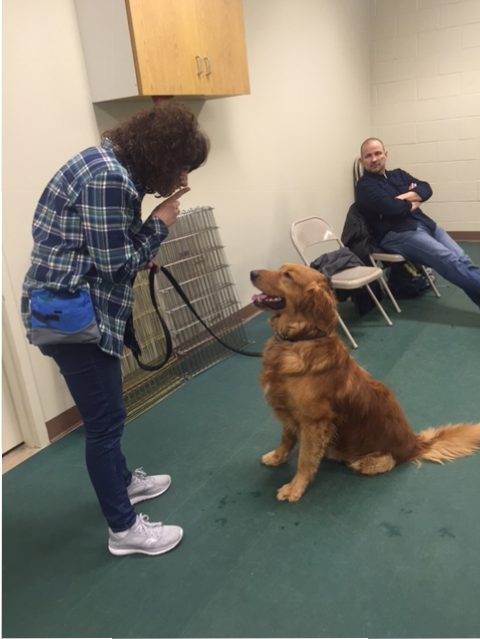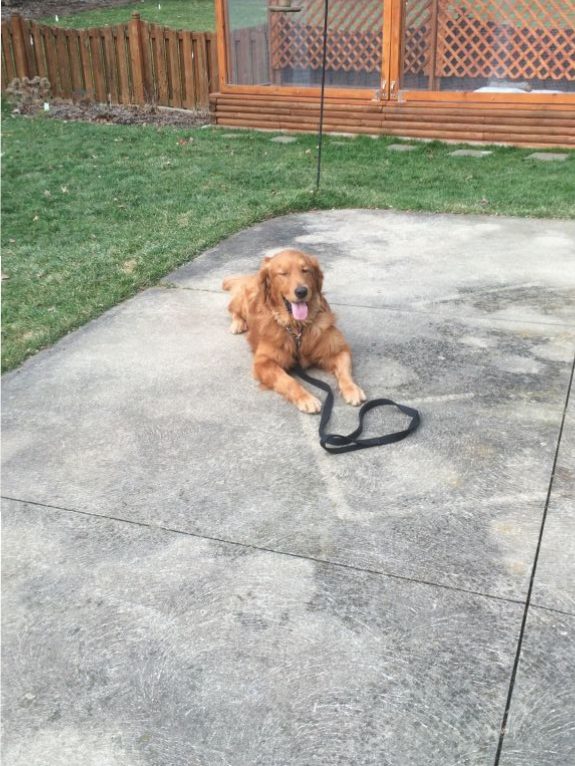 I've also learned some lessons at home. First, I've learned that my parents ALWAYS come back to get me, wherever I am. Sometimes my mom takes Lucy and Eugene and me to my grandma and grandpa's house to hang out with the "Golden Girls" for the day and my dad drops me off for my water therapy once a week. I hate when they leave me but I am so excited when they return and we ALWAYS come back home at the end of the day. I've also learned that the cats are the boss…I am not allowed to chase them and they must have the right of way at all times. They put me in my place when I get too close or act too crazy but if I am calm and quiet, they will let me get close to them. Bodie and I love our daily brushes in the mud room (he goes first of course). Last night I learned that thunderstorms are nothing to be scared of (even though Eugene thinks so) and the one lesson in the house I have to learn is that the basement is NOT as scary as it looks. I go upstairs to the bedroom just fine but the basement stairs still creep me out).
As always I've included some photos from this week: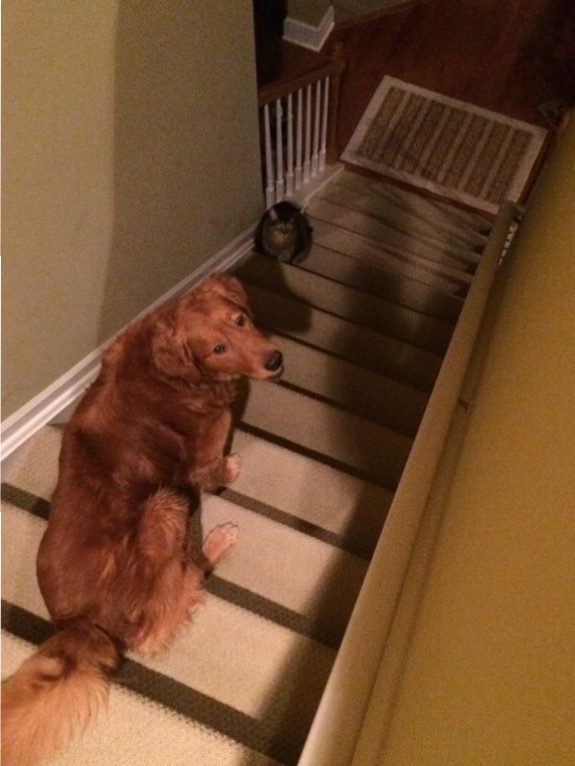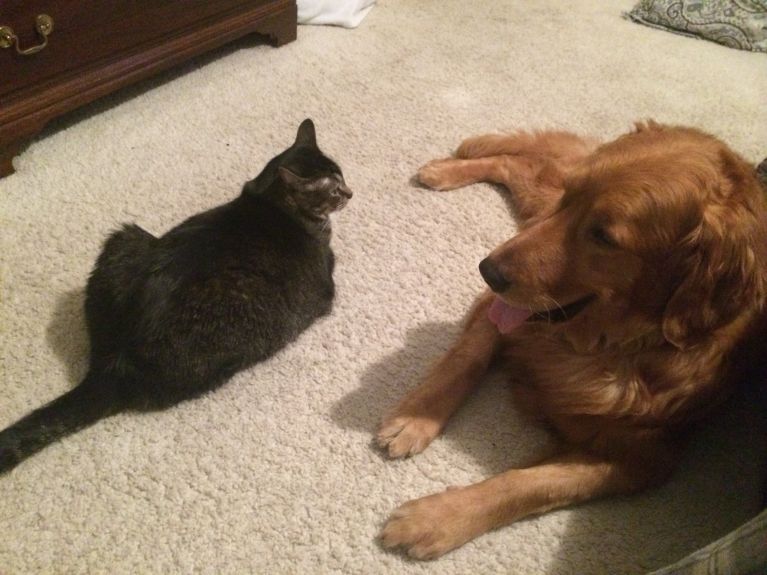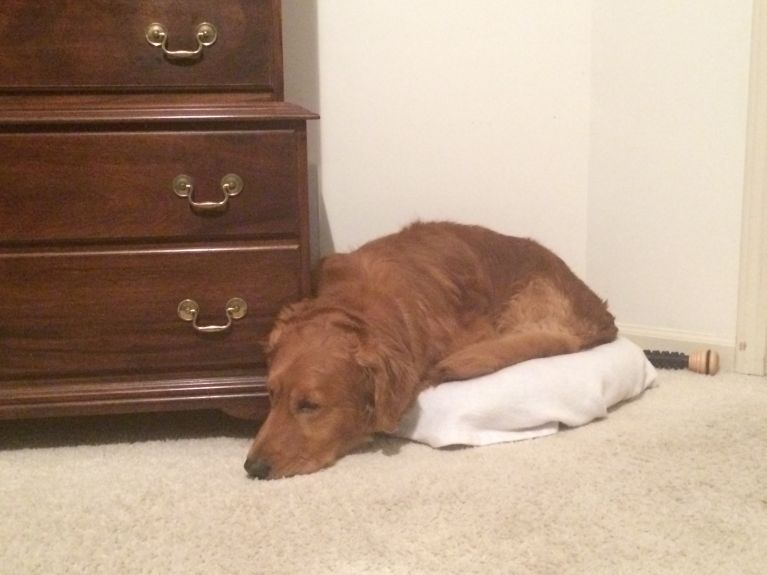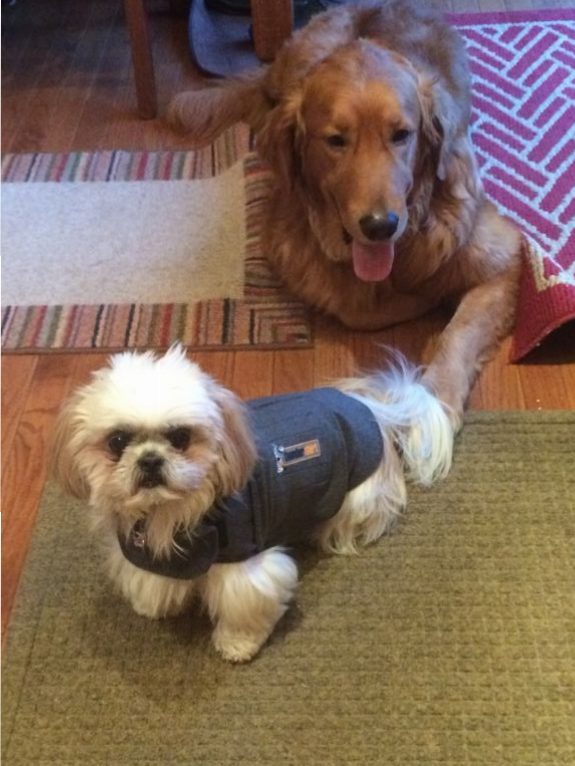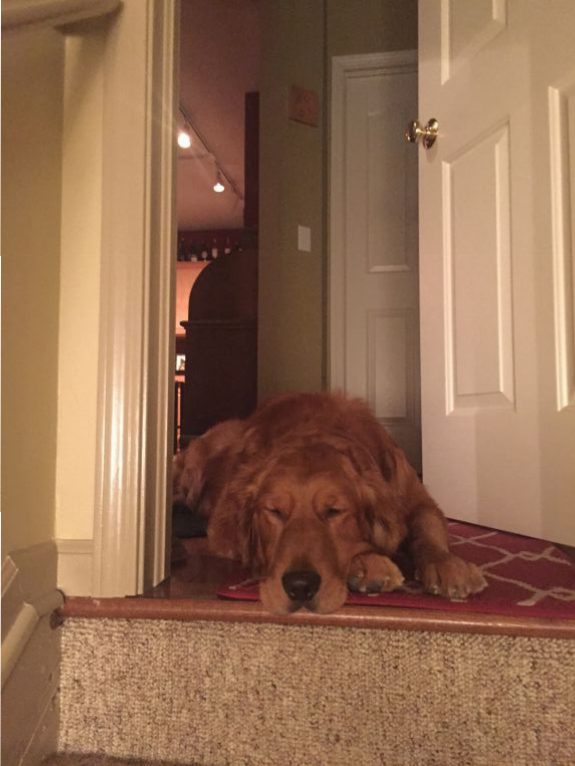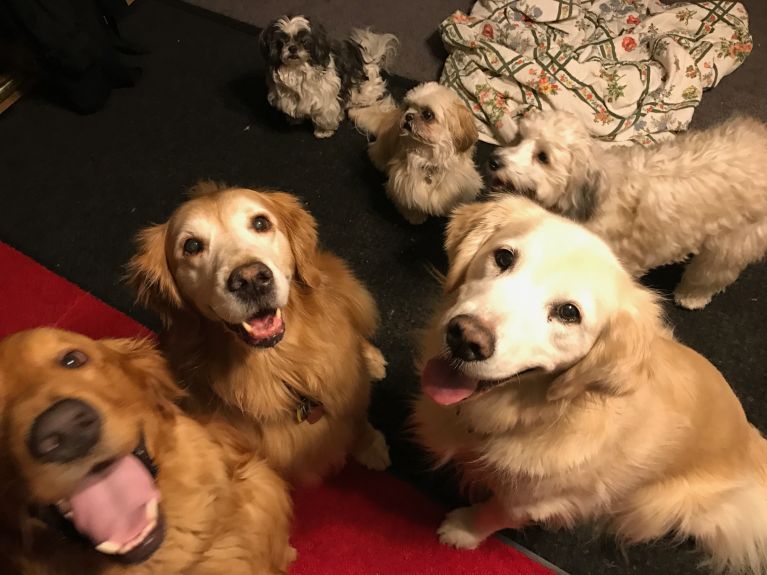 Until next time!
Hugs and kisses!
Love,
Chance